Conferences & workshops in 2017:
(reverse order)
---
Redback Biotek Director, Danny Rutar, Presents at HESTA Australia conference, 29 Nov – 01 Dec 2017. "Errors in Metabolic Measurement"
BASPO meeting, 23 October 2017, Magglingen, Switzerland
RACMEM-2017, 20-22 October 2017, Fribourg, Switzerland
European College of Sport Science, Germany 5-8 July 2017
TMG workshop Leeds, UK 01 June 2017
TMG workshop, IT Tallaght, Dublin 29 March 2017
IBM CorkCon 2017, Keynote Speaker Danny Rutar, IBM Cork Office 09 March 2017
——————————————————————————————————-
RACMEM CONFERENCE 20-22 October 2017, Fribourg, Switzerland
(https://www.racmem2017.org/)
An invitation-only conference held by and for the leaders and decision-makers in
metabolic measurement:
4th international conference on
R

ecent

A

dvances and

C

ontroversies in the


M

easurement of

E

nergy

M

etabolism
(
RACMEM

-2017) 20-22 October 2017, Fribourg, Switzerland
---
TMG workshop
Leeds Beckett University, Leeds UK, 01 June 2017
All videos (http://www.redbackbiotek.com/videos-tmg-workshop-leeds-uk-01-june-2017)
Summary of useful indices
Non-invasive Fibre typing (workload classification, muscle profiling, targeting interventions)
Assess lateral and functional symmetry (injury risk, function, balance, skill)
Assesment of fatigue
---
(Details below):
TMG workshop
IT Tallaght, Dublin 29 March 2017 (videos below)
Many Thanks to Kieran Collins, and ITT Sports Science staff and students for their
help with organising our first TMG International workshop series. The day went off
without a hitch with an excellent attendance and really high-quality presentations.
We will be adding pictures and a full video of all the presentations for those who could
not make it because of other commitments. Thank you also to Redback Biotek staff who
as always rose to the occasion and ensured all possible items were taken care of for our
participants.
BELOW: Sergej Rozman, TMG, Slovenia stimulating not just the audience but also his
subject on the massage bench. Sergej talks us through the process of collecting muscle
excitation data. After the quick process of stimulating the muscle , we are able to interpret
the information. Within a few minutes we are looking at muscle asymmetry between
left and right legs, compare to normative data and also to muscle type. Sergej maintains
that TMG should not replace current methods but rather it adds a new set of information
not easily available any other way.
BELOW: Dr. Massimiliano (Max) Ditroilo , UCD, Ireland put the TMG literature through
its paces to help our audience determine of the TMG system is valid for their use. Max
examined the history of papers from 1997 onwards showing excellent correlation to existing
scientific methods (needing expensive laboratory equipment) for some parameters such as
muscle displacement and velocity and less correlation to muscle relaxation. Max demonstrated
studies where the muscle took more than six days to return to normal functional status.
The TMG system was able to accurately track these functions.
BELOW: The highlight for many of the day was the presentation by Dr. Lewis Macgregor
from Stirling University, Scotland. His entertaining presentation along with all the
technical details of his work with Olympic Athletes in Scotland, what parameters he
found useful and how to apply the TMG to get the most gain from his team of athletes.
Dr. Macgregor took questions from the audience and in his entertaining style helped
us to understand how to ask the right questions when looking for performance gains.
BELOW: Our speakers, Dr. Lewis Macgregor (Stirling University), Sergej Rozman (TMG, Slovenia),
Max Ditroilo (UCD, Ireland), and our Managing Director, Danny Rutar (Redback Biotek).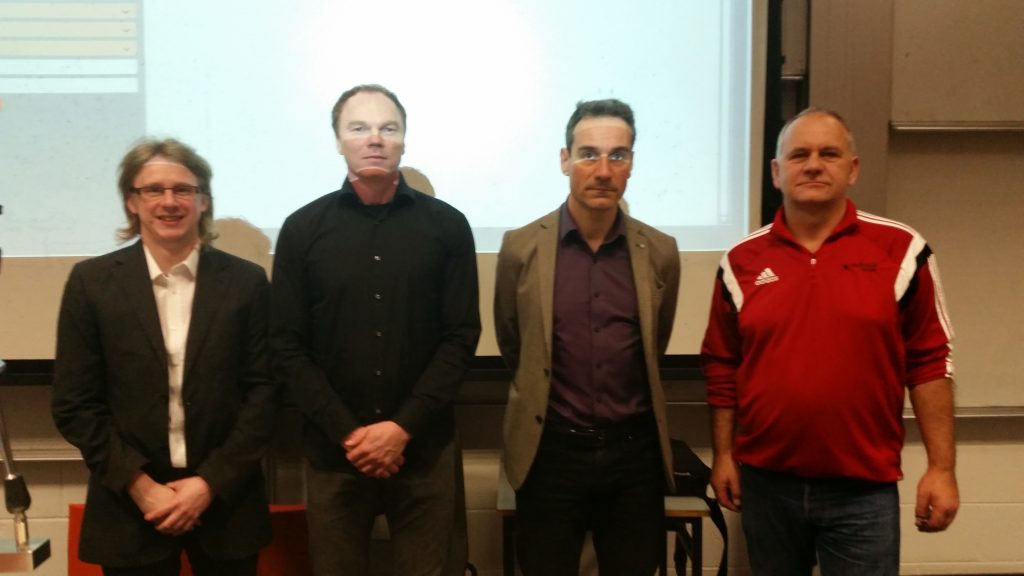 BELOW: One of the sessions.

Comments from the participants:
"The TMG workshop was excellent, the content was very helpful.
The workshop was eye opening, interesting and something to look
out for in the future"…Mr. Kevin O'Brien, IT Carlow.
"The more applied the information and delivery, the better the event
became…" Dr. Cian O'Neill, CIT.
"Very informative and interesting content…" Nicole Quinn.
"Very informative, but in a light informal style…"
Dr. Lewis Macgregor, Stirling University, Scotland.
"The attendance was great …I think the workshop was a success!
Good mix of topics to give a comprehensive
overview of TMG.".…Dr. Max Ditroilo, UCD, Dublin.
Workshop Videos
---
IBM CorkCon 2017
Keynote Speaker
IBM Cork Office 09 March 2017

Redback Biotek's Director, Danny Rutar, was invited to speak at IBM's Cork's
annual conference on innovation and technology. Danny delivered a keynote address
titled "Sports Science Technology – it matters what you measure, how you measure and
with what". The talk described the errors being made in regards to what parameters are
of sensors being measured, the methodologies being used and in particular the choice of
sensors being used. Explaining how that not all sensors are created equal. This culminated
with a description of an audio biofeedback technology Danny produced for Olympic
Rowers using this technology and superior feedback compared with force sensors.
---
TMG workshop
Leeds, UK 01 June 2017